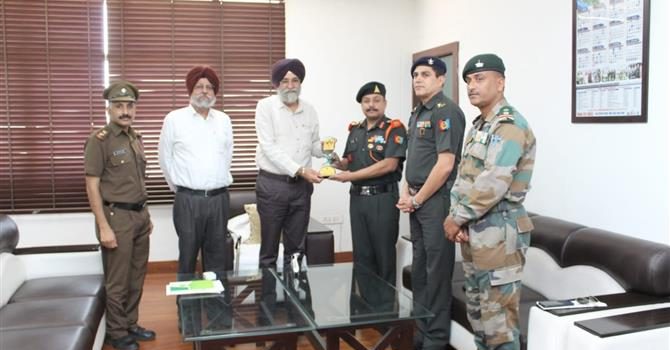 BATHINDA: Maharaja Ranjit Singh Punjab technical University (MRS-PTU) Bathinda in collaboration with NCC units organised 'Principal's Conclave' at Campus .
This conclave Principals' Conclave was organized planned and conducted under the leadership of Commanding Officer Col. K S Mathur and Admin Officer Col Ajay Kumar Dhill of 20 Punjab Batallion as per the guidelines issued by NCC directorate of Punjab, Haryana, Himachal and Chandigarh.
The purpose of conducting such conclave was to streamline the NCC activities running at various schools and colleges through taking policy related decisions. As many as 18 schools and 17 colleges from Bathinda, Mansa, Budhladha and Malout participated in this mega event.
The convention started with the welcome address by Prof. Sanjiv Aggarwal, Campus Director of host Institution Giani Zail Singh Campus College of Engineering & Technology, MRS-PTU Bathinda. The heads of the institutions, ANOs and NCC battalion officials took brain storming sessions to evolve out the ways and means to handle various problems of various Institutes. Also the ways to energize the NCC units were thought of. Some important policy decisions were taken to avert obstacles in achieving the very objectives of NCC. On this occasion, Lt Rajeev Kumar Varshney, ANO of Giani zail Singh Campus College of Engineering & Technology, Bathinda was conferred the promotion in the rank of Captain after completion of eight years of commissioned service.
Vice Chancellor Prof. Buta Singh Sidhu exhorted the participants to engage themselves to build the character of their cadets which is the real asset of a nation. Registrar of the University Prof G P S Brar intimated the gathering about the efforts being made by the University for imparting the qualities to their students transforming them into responsible citizens. Col. Mathur answered the queries of all the participants and motivated them to facilitate NCC activities in their respective institutes.
Col. Ajay presented a performance report of various schools and colleges towards participation in NCC activities at various levels.
Prominent decisions related to institutional training, camp training of cadets, their refreshments, their uniforms and ANOs training and honorariums were taken up.
The conclave concluded with the recitation of the National anthem which filled the heart of every participant with the nationalist feeling. All Schools and colleges expressed their commitment to work for the upliftment of the stand
This story is provided by syndicated feed. Buildupyouth will not be responsible in any way for the content of this article.
MRS-PTU in collaboration with NCC Units organised Principals' Conclave at Campus